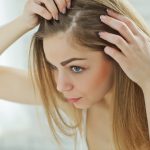 Dandruff is a common scalp condition that affects millions of people worldwide. It manifests as white or gray flakes that can be itchy and irritating. While dandruff is not directly responsible for hair loss, there is evidence to suggest that the condition could contribute to hair thinning and loss if left untreated. In this blog post, we will delve deeper into the relationship between dandruff and hair loss and explore potential remedies to deal with both issues effectively.
Understanding Dandruff:
Dandruff is primarily caused by an overgrowth of the yeast-like fungus called Malassezia, which naturally resides on the scalp. When this fungus grows excessively, it triggers an inflammatory response, leading to the shedding of dead skin cells in the form of flakes. Dandruff can also be exacerbated by a variety of factors including inadequate scalp hygiene, hormonal imbalances, stress, and even certain hair care products.
How Dandruff Can Affect Hair Loss:
While dandruff itself doesn't directly cause hair loss, the persistent itchiness and inflammation it brings can lead to a condition called Telogen Effluvium. Telogen Effluvium is a temporary form of hair loss characterized by excessive shedding of hair. When the scalp becomes inflamed due to dandruff, it can disrupt the hair growth cycle. The excessive shedding associated with Telogen Effluvium can cause temporary thinning of the hair, making it appear as if dandruff is directly responsible for hair loss.
In addition, constant scratching of the itchy scalp caused by dandruff may weaken the hair follicles over time, making them more prone to breakage. This can lead to increased hair loss and hinder the regrowth process. Therefore, while dandruff may not directly cause permanent hair loss, it can contribute to hair thinning and breakage if left untreated.
Treating and Preventing Dandruff-Related Hair Loss:
Fortunately, there are various ways to treat and prevent dandruff-related hair loss. The first step is to address the underlying dandruff issue. This can be done by using specialized anti-dandruff shampoos containing ingredients like zinc pyrithione, ketoconazole, or selenium sulfide. These ingredients help control the overgrowth of the fungus responsible for dandruff, leading to a reduction in flakes and scalp inflammation. It is recommended to use these shampoos regularly for a sustained period to effectively manage dandruff.
Furthermore, maintaining good scalp hygiene is crucial. Regularly washing and cleansing the scalp with gentle shampoos can prevent the buildup of oils, dead skin cells, and product residue that can exacerbate dandruff. Brushing the hair daily stimulates blood circulation in the scalp, reduces flakiness, and assists in distributing the natural oils, ultimately promoting healthier hair growth.
To further support hair health and minimize hair loss, it is advisable to follow a balanced diet rich in vitamins, minerals, and proteins. Nutrients like iron, zinc, biotin, and omega-3 fatty acids play a significant role in promoting strong and healthy hair. Hydrating the body by drinking an adequate amount of water and reducing stress through relaxation techniques can also contribute to optimal hair growth.
Summary:
While dandruff itself may not directly cause hair loss, the prolonged presence of the condition can lead to hair thinning and breakage. The itchiness and inflammation caused by dandruff can disrupt the hair growth cycle, leading to increased shedding and temporary hair loss. Therefore, it is essential to address dandruff promptly and effectively to prevent any potential impact on hair health. By incorporating anti-dandruff shampoos, maintaining good scalp hygiene, and following a balanced diet, dandruff-related hair loss can be effectively managed, allowing for healthier and stronger hair growth.
Got Questions About Hair Loss? Let Us Help!
Raveen Hair Replacement is your local full service professional at hair replacement, hair loss, and hair care services! We specialize at hair replacement for men and women. We use non surgical and non evasive hair replacement and hair loss treatment procedures. We also have free private consultations! We offer full head bonding, perimeter bonding, hair additions, hair repair, haircuts, cleaning, conditioning, styling, scalp treatments, coloring. We offer hair care products too such as shampoo, conditioner, hairpieces, hair piece tape, hair piece glue, toupees, full line of Paul Mitchell hair care products, and much more! Contact us today to learn more about what we can do for you!