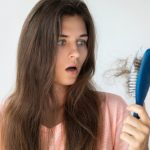 Hair loss is a common concern that affects millions of people worldwide. While genetics is often attributed to hair loss, there are numerous other factors that can contribute to this problem. In this blog post, we will explore some common causes of hair loss other than genetics.
1. Hormonal Changes
Hormonal changes can have a significant impact on hair growth and loss. Conditions such as pregnancy, childbirth, and menopause can cause hormonal fluctuations that result in hair shedding. Hormonal imbalances, such as those seen with thyroid disorders or polycystic ovary syndrome (PCOS), can also contribute to hair loss. To address hair loss related to hormonal changes, it is important to consult with a healthcare professional who can evaluate and provide appropriate treatment options.
2. Nutritional Deficiencies
A lack of certain nutrients can lead to hair loss. For example, deficiencies in iron, zinc, vitamin D, and biotin have been associated with hair thinning and shedding. These nutrients play vital roles in maintaining healthy hair follicles and promoting hair growth. Ensuring a well-balanced diet that includes foods rich in these nutrients or considering supplementation can help address hair loss caused by nutritional deficiencies.
3. Medical Conditions and Illnesses
Various medical conditions and illnesses can contribute to hair loss. Some examples include autoimmune diseases like alopecia areata, where the immune system mistakenly attacks the hair follicles, causing hair to fall out in patches. Scalp infections, such as ringworm, can also lead to hair loss. Additionally, certain chronic conditions like lupus and diabetes can impact hair growth. Treating and managing the underlying medical condition can help alleviate associated hair loss.
4. Stress and Anxiety
Excessive stress can disrupt the hair growth cycle and lead to hair loss. When the body is under stress, it produces higher levels of the hormone cortisol, which can negatively affect hair follicles, causing them to enter a resting phase prematurely. This results in increased shedding and thinning. Engaging in stress-reduction techniques, such as exercise, meditation, and therapy, can help minimize stress-related hair loss.
5. Medications and Treatments
Certain medications and treatments have been linked to hair loss as a side effect. Chemotherapy drugs used in cancer treatment, for example, are well-known for causing significant hair loss. Other medications, such as antidepressants, anticoagulants, and beta-blockers, may also contribute to hair thinning. Radiation therapy, used to treat cancer, can cause localized hair loss in the specific area being treated. If you suspect your medication is causing hair loss, consult with your healthcare provider to explore alternative options.
6. Hairstyling Practices and Products
Excessive heat styling, chemical treatments, and tight hairstyles can contribute to hair loss. Frequent use of curling irons, straighteners, and blow dryers can damage the hair shaft, leading to breakage and thinning. Chemical treatments like perming, straightening, or coloring can weaken the hair and cause it to become brittle. Additionally, consistently wearing tight hairstyles such as braids, ponytails, or buns can put strain on the hair follicles, leading to traction alopecia. Avoiding excessive heat styling, opting for gentle and natural hair care products, and giving your hair breaks from tight hairstyles can help prevent these types of hair loss.
7. Age and Hormonal Changes
Hair naturally thins as we age. As individuals get older, hair follicles may shrink, leading to thinner and finer hair. Hormonal changes associated with aging, such as a decrease in estrogen levels in postmenopausal women, can also contribute to hair loss. Although these changes are a natural part of the aging process, certain lifestyle modifications and treatments can help slow down the progression of hair loss.
Summary
While genetics plays a significant role in hair loss, it is important to remember that there are various other causes as well. Understanding these common causes can help individuals identify the underlying problem and seek appropriate solutions. Whether it's addressing hormonal imbalances, improving nutrition, managing stress, adjusting hairstyling practices, or seeking medical advice, addressing these factors can support healthier hair growth and minimize hair loss.
Got Questions? Let Us Help!
Raveen Hair Replacement is your local full service professional at hair replacement, hair loss, and hair care services! We specialize at hair replacement for men and women. We use non surgical and non evasive hair replacement and hair loss treatment procedures. We also have free private consultations! We offer full head bonding, perimeter bonding, hair additions, hair repair, haircuts, cleaning, conditioning, styling, scalp treatments, coloring. We offer hair care products too such as shampoo, conditioner, hairpieces, hair piece tape, hair piece glue, toupees, full line of Paul Mitchell hair care products, and much more! Contact us today to learn more about what we can do for you!