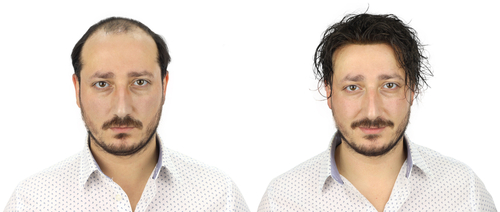 Hair loss can be a distressing experience for both men and women. It can affect self-confidence and overall well-being. Fortunately, advancements in technology have made hair replacement options more accessible than ever. If you are considering hair replacement, whether it's through hair transplants or non-surgical methods, it is essential to schedule a consultation with a hair treatment professional. In this blog post, we will discuss the importance of a consultation for hair replacement and how it can help you make informed decisions about your hair restoration journey.
1. Comprehensive Assessment
During a consultation for hair replacement, a trained specialist will conduct a comprehensive assessment of your hair loss condition. They will evaluate the extent of your hair loss, the pattern of hair thinning, and any underlying causes that may contribute to the problem. This assessment is crucial in determining the most suitable hair replacement options for your specific needs. It ensures that you receive personalized recommendations and that the chosen method will address your unique hair loss concerns effectively.
2. Understanding Treatment Options
A consultation allows you to understand the various hair replacement options available to you. Whether it's hair transplant surgery, scalp micropigmentation, laser therapy, or non-surgical solutions like hair systems or extensions, a consultation provides you with detailed information about each method. You can learn about the pros and cons, success rates, and potential side effects of each option. By understanding the full range of treatments, you can make an informed decision about the one that aligns with your preferences, budget, and desired outcomes.
3. Realistic Expectations
Having realistic expectations is crucial when it comes to hair replacement. During a consultation, a professional will discuss what results you can realistically expect from the chosen method. They will show you before-and-after pictures of previous patients who have undergone similar treatments, giving you a better idea of the potential outcome. Managing expectations upfront ensures that you are prepared for the process and are satisfied with the final results of your hair replacement journey.
4. Customized Treatment Plan
Every individual's hair loss situation is unique, and a consultation allows a hair replacement specialist to develop a customized treatment plan tailored to your specific needs. They will take into account factors such as the degree of hair loss, the condition of your scalp, your lifestyle, and your aesthetic goals. By creating a personalized treatment plan, you can be confident that the chosen method will deliver the desired outcome and suit your individual circumstances.
5. Addressing Concerns and Questions
A consultation provides an opportunity for you to address any concerns or ask questions you may have about hair replacement. You can discuss factors like the cost, the recovery process, the duration of treatment, and any potential risks involved. A professional will offer clear and concise answers, ensuring that you have all the information you need to make an educated decision. This open dialogue can alleviate any apprehensions or uncertainties you may have and provide you with peace of mind as you embark on your hair replacement journey.
6. Building Trust and Rapport
Lastly, a consultation allows you to establish trust and rapport with the hair replacement specialist. It gives you the chance to assess their expertise, experience, and their ability to provide the level of care and support you require. Building a good relationship with your hair replacement specialist is crucial, as it ensures that you feel comfortable and confident throughout the entire process.
Conclusion
A consultation for hair replacement is vital to ensure a successful hair restoration journey. It provides a comprehensive assessment of your hair loss condition, educates you about the available treatment options, and helps set realistic expectations. It allows for the development of a customized treatment plan that addresses your individual needs and offers the opportunity to address concerns and ask questions. Moreover, a consultation enables you to establish trust and rapport with a hair replacement specialist, ensuring that you feel supported and confident in your decision. If you are considering hair replacement, scheduling a consultation is the first step towards regaining your confidence and achieving your desired hair restoration goals.
Got Questions? Let Us Help!
Raveen Hair Replacement is your local full service professional at hair replacement, hair loss, and hair care services! We specialize at hair replacement for men and women. We use non surgical and non evasive hair replacement and hair loss treatment procedures. We also have free private consultations! We offer full head bonding, perimeter bonding, hair additions, hair repair, haircuts, cleaning, conditioning, styling, scalp treatments, coloring. We offer hair care products too such as shampoo, conditioner, hairpieces, hair piece tape, hair piece glue, toupees, full line of Paul Mitchell hair care products, and much more! Contact us today to learn more about what we can do for you!